Construction Nears Completion At Laguna Lang Co / Faldo Course in Vietnam Moves Into Final Detail Phase
Oct 23 / 2012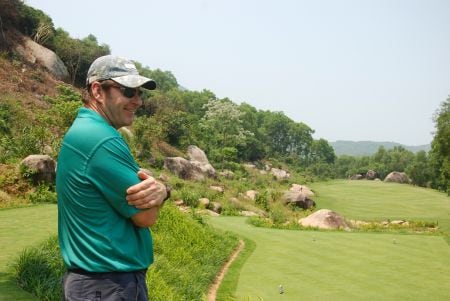 With construction almost complete at Laguna Lang Co in central Vietnam, work on the Faldo Design golf course is now moving into the final phases of landscape planting and fine detail work. The spectacular ocean-side project is still on track for a soft opening before the end of the year.
"With only a few engineering items left to finish on the golf course, the work on site is now predominately focused on refining course details and the landscape planting," said Faldo Design's lead architect Paul Jansen. "We have developed a style that gives the golf course a very local and natural identity with wonderful character. At this stage we are very happy with the results."
"We are also focused on the grass establishment which is producing good results and many of the golf holes are already playable," added Andrew Haggar, Director of Architecture at Faldo Design. "We are the first course in Vietnam to be using Zoysia Manila Grass on the fairways. As a grass native to the region it will demand less water and less intense management than other grasses, significantly helping towards the sustainability of the project."
Appointed by Banyan Tree Holdings, Sir Nick Faldo's 18-hole course will form the centrepiece of a luxury integrated resort complex situated on a 280-hectare beachfront site that when fully developed will have approximately 2,000 hotel keys under the management of international, branded hotel and resort operators, award-winning spas, resort residences, convention facilities and a town centre with retail and recreational facilities.
Located near Hue on Vietnam's central coast, Laguna Lang Co is one of five Asian projects currently being undertaken by Faldo Design, with work also underway on other sites in Cambodia, India and Indonesia.
Established in 1991, Faldo Design has more than 50 projects completed or in development around the world. With offices in London, Hong Kong and the USA, Faldo and his design team are currently working in North America, the Caribbean, Central and South America, Europe and Africa, in addition to India and Asia-Pacific.
Recent award-winning Faldo Design projects include Roco Ki in the Dominican Republic and Lough Erne Resort in Northern Ireland (respectively ranked as second and third 'Best New International Golf Courses' in 2009 by GOLF Magazine) and Eléa Estate in Cyprus (voted 'Best European Golf Development' in 2011 at the European Property Awards).
For more information on Faldo Design visit www.nickfaldodesign.com. You can also follow Faldo Design on Twitter at www.twitter.com/faldodesigners.
---
For media enquiries, please contact Tom Phillips on +852 2819 3364 (Hong Kong) or email tphillips@nickfaldo.com.