Cambodia – As You've Never Seen It Before
Jan 24 / 2012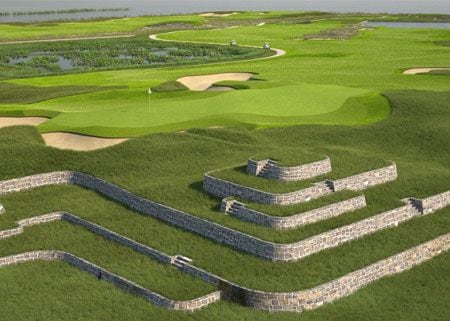 Detailed design work on the proposed East Course at the new Vattanac Golf Resort in Cambodia is now complete with construction expected to be underway later this year.  The resort in Phnom Penh will boast two Faldo Design golf courses, complete with a state of the art clubhouse and a comprehensive schedule of other built developments. Including a hotel, wedding banquet facility and extensive real estate, most with waterfront locations.
The site is currently a series of large rice padi fields which due to their flat, man-made form currently provide little in the way of contour or topographical feature interest. Yet, as designers these site limitations presented us with an exciting challenge of creativity and imagination. The brief for the East Course was to design a golf course accessible to all but capable of hosting a tournament, therefore built-in vantage points for spectators throughout the course were a prerequisite.  In short we knew that we had to design a landscape and an identity for the site and at the same time create an iconic golf course which fulfilled our Client's brief.
Inspiration for the design of the East Course came from a number of different local and national sources including aerial views of the country's network of padi fields, the stunning temples at Angkor Watt, wooden houses close to the site and the formation of the padi field 'basins' themselves.
For us the 3rd Hole on the East Course encapsulates all influences and design elements that go to make up the identity that we've given to this golf course.  It perfectly marries strong landscape features and interesting golf course features with playability and challenge.  In doing so it upholds our firm commitment in golf course design to Strategy and Memorability.
Click on the following link to view an animation of the 3rd Hole:
Our thanks to HK Golf for producing an outstanding animation.
Lead Architect: Andrew Haggar