Accolades
Award-Winning Designs & Championship Venues
A motivation for producing world class golf courses allows the firm to concentrate on a limited number of global projects and our work has resulted in award-winning designs.
In addition to awards for individual projects, Sir Nick Faldo was named 'Golf Course Designer of the Year' at the 2016 World Golf Awards, reflecting the high quality portfolio of golf course designs he has produced in his career to date.
Faldo Design also produces golf courses capable of hosting international championships, as evidenced by the many high profile events staged at our projects, including those on the European Tour, Asian Tour, LPGA Tour, and leading amateur events, such as the World Amateur Team Championships and Faldo Series Grand Final.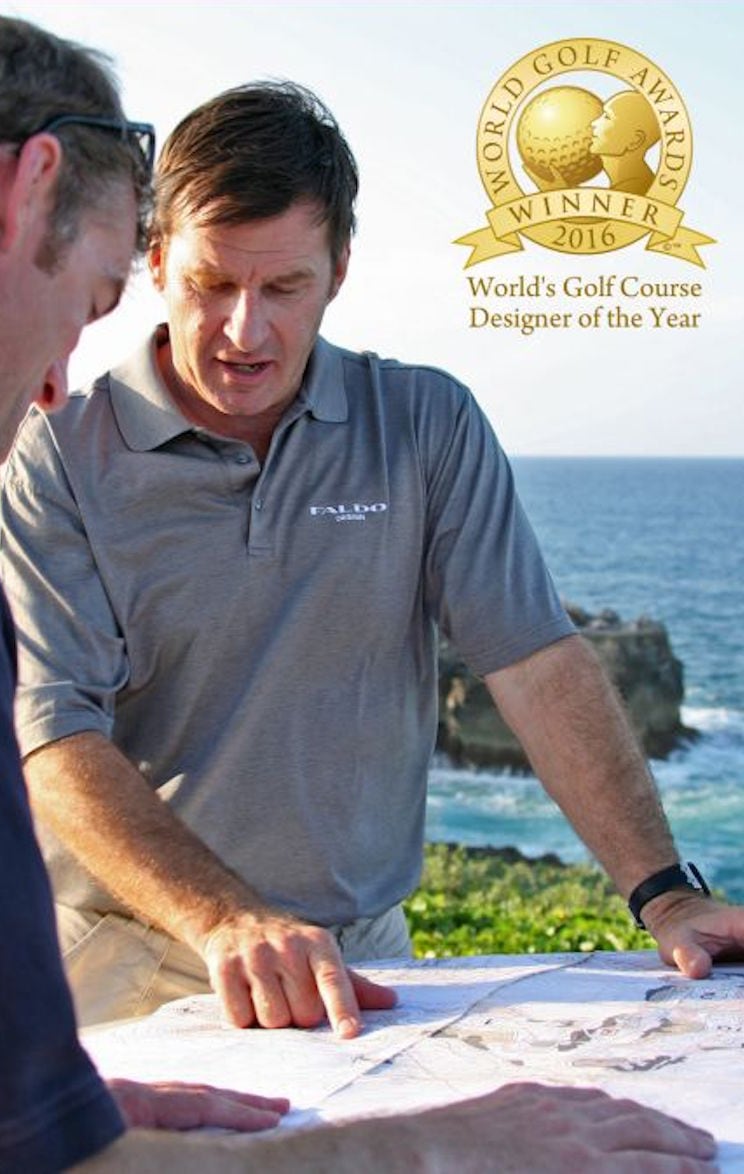 AMENDOEIRA GOLF RESORT – THE FALDO COURSE
Gold Award – 'Best Golf Development' (Homes Overseas), 2008
ANGKOR GOLF RESORT
No. 3 'Best New Course in Asia' (Asian Golf Monthly), 2008
Handa Faldo Cambodian Classic, 2012
No. 71 'Asia Top 100 Golf Courses' (Asia Top Golf), 2016
A-ROSA RESORT – FALDO BERLIN
Germany Ryder Cup Host Bid Course, 2015
No. 15 "Top 100 Golf Courses in Europe" (Today's Golfer), 2014
No. 11 Top 100 Golf Courses in Continental Europe (Top 100 Golf Courses), 2008
'Best New Course in Continental Europe' (Golf World), 1996
International European Amateur Championship, 2007
European Seniors Tour – Palmerston Trophy, 2001
Co-Host of the World Amateur Team Championships, 2000
2000 European Tour German Open, 1998-99
BALLYLIFFIN GOLF CLUB – THE OLD COURSE
Irish Seniors Open, 2008
BELLA COLLINA
'Clubhouse of the Year' (Golf Inc.), 2008
CHART HILLS GOLF CLUB
No. 33 Top 100 Golf Courses in England (Top 100 Golf Courses), 2011
'Best New Course in England' (Golf World), 1995
European Tour Qualifying (European LPGA English), 2005-08
Ladies Open, 2004-07
CORNELIA GOLF RESORT
No. 14 Golf Courses in Continental Europe (Top 100 Golf Courses), 2008
No. 1 Golf Course in Turkey (Top 100 Golf Courses), 2008
Co-Host of the World Amateur Team Championships, 2012
COTTONWOOD HILLS
Runner-Up in 'Daily Fee Course of the Year' (Golf Digest), 2007
EAGLE RIDGE – THE FALDO COURSE
No. 2 'Best Course in the Philippines' (Asian Golf Monthly), 2007
ELÉA ESTATE
'Best Golf Development' (Europe & European Property)
'Best Leisure Development' (Europe Awards), 2011
No. 1 Golf Course in Cyprus (Top 100 Golf Courses), 2011
Ranked Amongst 'The World's Most Exciting New Courses' (Golf World), 2011
No. 9 'Best New International Courses' (GOLF magazine), 2010
EMIRATES CLUB – THE FALDO COURSE
No. 72 '100 Best Courses Outside the US' (Golf Digest), 2007
HONGHUA INTERNATIONAL GOLF CLUB
No. 7 'Top 10 Nominated Golf Courses in China' (GOLF Magazine), 2007-08
Ranked in 'Top 5 Golf Courses in North China' (Golf Digest), 2006-07
European / Asian Tours' Volvo China Open, 2006
LAGUNA LANG CO
'Best New Golf Course Asia Pacific' (Asian Golf Monthly), 2013
No. 65 'Asia Top 100 Golf Courses' (Asia Top Golf), 2016
LAKEVIEW GOLF CLUB
Top 5 'Environmental Protection Innovation' Courses in China (GOLF Magazine), 2007-08
'No. 6 Golf Course in China'  (Golf Digest), 2006-07
LOUGH ERNE GOLF RESORT – THE FALDO COURSE
No. 7 'Best Modern GB & Ireland Courses' (Golfweek Magazine), 2011
No. 3 'Best New International Golf Courses' (GOLF Magazine), 2009
European Tour Irish Open Nominee, 2017
Host of G8 Summit, 2013
MISSION HILLS GOLF CLUB – THE FALDO COURSE
'No. 2 Golf Facility in All China' (Golf Digest), 2005
No. 7 'Best Courses in Asia' (Asian Golf Monthly), 2005
Faldo Series Asia Grand Final, 2006-14
OCEAN DUNES GOLF CLUB
'No. 2 Golf Course in Vietnam' (Top 100 Golf Courses), 2010
'No. 2 Golf Course in Vietnam' (Golf Digest), 2007
'No. 2 Golf Course in Vietnam' (Asian Golf Monthly), 2007
ROCO KI
No. 2 'Best New International Golf Courses' (GOLF Magazine), 2009
No. 2 'Best New Golf Development in the World' (ABTA), 2008
Rated One of the World's 10 Best New Courses (Travel+Leisure GOLF), 2008
SHADOW RIDGE
No. 1 'Top 10 Resort Courses in the Coachella Valley' (Desert Golf Magazine), 2008-09
No. 1 'Top 10 Resort Courses in the Coachella Valley' (Desert Golf Magazine), 2005-06
No. 12 'Best Public-Access Courses for California' (Golf Week Magazine), 2006
THE ROCK
'Best New Course in Canada' (Golf Digest), 2004
WILDERNESS CLUB
No. 2 'Best New Private Courses in the US' (GOLF Magazine), 2009