Remodel
Undertake major redesign and reconstruction of golf course features or holes, often as part of a re-routing / planning proposal
Use and enhance site characteristics with particular attention to improving environmental and ecological value
Reposition in the marketplace and rebrand as a new course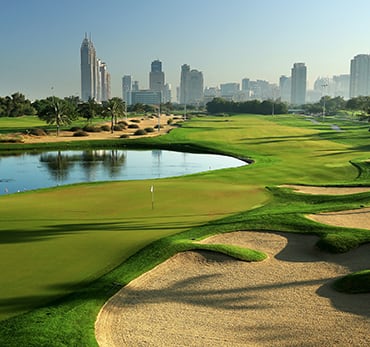 Case Study
Faldo Course – Emirates Club, Dubai
The sister course to the more prominent Majlis, Sir Nick Faldo's aim for the full remodel of the then-named Wadi Course was to create a contrasting environment. The key to that was to make better use of the natural dry river bed that runs across the entire site and develop a more natural, uneven riverside character.
Adding strategic complexity was the other main focus of the design process. Consideration of the prevailing wind was a central factor in developing easier and more difficult landing and pin positions, whilst raising greens and remodelling bunker shapes and styles helped create topographic strategy.
Relaunched as the Faldo Course in 2006, Emirates Club remains enormously popular – the only floodlit course in Dubai, it hosts 60,000 rounds a year. Located in a region where efficient resource use is vitally important, a significant reduction in water consumption and transition to a drought-tolerant grass species enabled the course to become GEO Certified®.