Faldo Back at Course Design Project in Vietnam
Oct 26 / 2011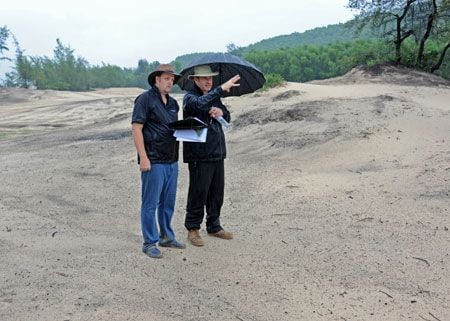 Sir Nick Faldo was back in central Vietnam recently to review construction progress at his spectacular ocean-side Laguna Lang Cô project.  Returning for the second time in less than 12 months, Faldo was able to inspect the rough shaping work now complete on 14 of the 18 holes.
"This golf course is shaping up nicely and already has some wonderful movement," said the six-time Major Champion, accompanied by his lead architect Paul Jansen and IGRM's on-site construction management team.  "The diverse character of the terrain allowed us to incorporate some very interesting and unusual features."
"In addition to several views of the ocean, golfers will experience the course's amphitheatre-like mountain backdrop and the rich variety of woodland, scrub and rocky outcrops that feature throughout the round," Faldo added.
"The golf course at Laguna Lang Cô is really coming together thanks to Faldo Design and our construction teams on site," said Michael Ayling, Managing Director of Laguna Lang Cô.  "It was great to welcome back Sir Nick and witness his obvious enthusiasm for the project, and particularly to see him direct the design of his strategic vision for the layout.  We look forward to the golf course opening midway through 2012."
Appointed by Banyan Tree Holdings, Faldo's 18-hole course will form the centrepiece of a luxury integrated resort complex situated on a 280-hectare beachfront site that, when fully developed, will have approximately 2,000 hotel keys under the management of international branded hotel and resort operators, award-winning spas, resort residences, convention facilities and a town centre with retail and recreational facilities.
Laguna Lang Cô is one of five new projects to be undertaken by Faldo Design in Asia, with work also underway on other sites in India, Cambodia and China.