Faldo Design Recognised for Sustainable Golf Course Architecture
Jan 29 / 2015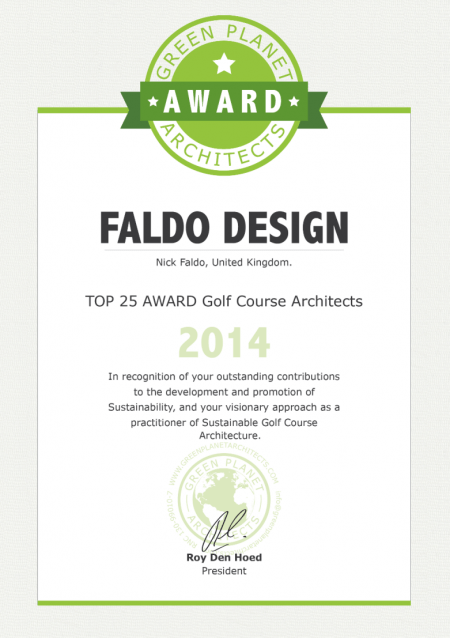 Faldo Design is proud to have been presented with the 'Sustainable Golf Course Architects' award by Green Planet Architects. The award recognises Faldo Design's dedication to creating high quality golf courses that are economically, socially and environmentally sustainable.
Emphasis was placed on several of Faldo Design's courses as outstanding examples of Sustainable Golf Course Architecture:
At Eléa Estate in Paphos, Cyprus, the inclusion of native Garrigue flora habitats and weathered limestone outcrops within the golf course embraced the local Mediterranean character.  Similarly at Ledreborg Palace Golf Club in Roskilde, Denmark, a minimalist approach preserved all existing wildlife habitats and avoided disturbing sites of archaeological interest.  The design at Laguna Lang Co in Hue, Vietnam, incorporated, preserved and enhanced existing site features including sand dunes, rice-paddy fields and exposed rock formations as part of its layout, delivering a distinctive regional character and the award for "Best New Golf Course Asia Pacific" at the 2013 Asia Pacific Golf Summit.
Despite their obvious differences in style and location, the three courses share a common characteristic of Faldo designs – that of comfortably fitting into their existing landscapes.  Faldo Design is committed to sustainable design in all its projects and is guided by the principles laid out by the Golf Environment Organization. By studying and understanding the natural environment of each site, each golf facility design complements and responds to the natural flow of the landscape.
---
About Green Planet Architects
http://www.GreenPlanetArchitects.com is the first worldwide multi-language online platform for finding a sustainable architect, landscape architect or interior designer.
For more information on Green Planet Architects, its sustainable golf course and other services, and additional details on the recipients of the TOP 25 AWARDS, go towww.greenplanetarchitects.com/en/architects/golf-architecture