Faldo Design Talks to KPMG's Golf Business Community
May 21 / 2012
Andrew Haggar, Director of Architecture at Faldo Design talks to GBC about recent projects, company focus, the Faldo Series and Sir Nick's golf course design philosophy.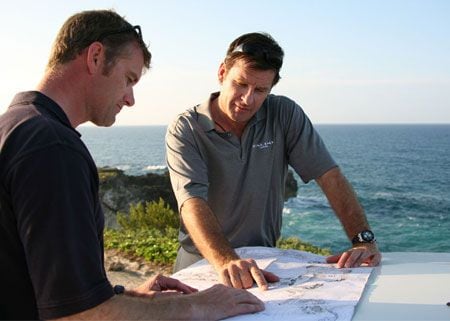 What is currently the main focus of the Faldo Design business?
We have a number of interesting projects located in what might be described as 'emerging markets', including Laguna Lang Cô in central Vietnam; the Vattanac Golf Resort in Phnom Penh, Cambodia and the Rio de Janeiro International Golf Resort in Brazil. We are also working on a variety of projects (in varying stages of design) in North and South America, Africa, Europe, India and China.
In addition to these ongoing assignments, we are looking at re-vision opportunities with existing courses as well as designing new shorter courses and par 3 developments.
How much of Sir Nick's philosophy during his competitive playing days influences his thinking when designing golf courses?
It is integral to it, and the most important part of what he brings to each Faldo Design project.  Sir Nick's playing career was defined by his mastery of strategic golf and his not-settling-for-second-best attitude, and these are qualities that he ensures are instilled into every course we create.
Faldo Design has been commissioned to design two golf courses for the Rio de Janeiro International Golf Resort, just outside Petropolis, Brazil.  How important is it to be working in countries where golf is in its infancy?
It's healthy for the game that golf is still developing and growing worldwide – and for golfers in countries where the sport is relatively 'new' it's always good to have the chance to learn on high quality courses.  Sir Nick's youth golf development programme, the Faldo Series, has led the way in many parts of the world, including Brazil, and of course for Rio in particular the Olympic legacy will be very important.
From a Faldo Design perspective, we feel privileged to be able to contribute to the growth of golf in 'emerging countries' such as Brazil, Cambodia and India.
Faldo Design has a team of architects working on its projects. How would Sir Nick input on these to put his own personal stamp on the finished product?
Faldo Design's work is always the product of a team effort – i.e. Sir Nick leading a team of experienced golf course architects.
Sir Nick's intricate knowledge of the world's greatest golf courses is invaluable. He has an almost photographic memory for courses and holes that he's played, so he is able to draw from those experiences when searching out the strategy of a new golf hole and an overall 'vision' for the project.   He always visits the sites and relays his thoughts and ideas to the Faldo Design architects who put the vision down on paper to ensure it becomes a reality. Sir Nick is very artistic and thoroughly enjoys the creative process – which is another reason why each course has a genuine and original 'Nick Faldo fingerprint'.
Is it important to be selective about the projects you undertake in order to manage and protect the Faldo brand?
From a business sense, absolutely! We consider ourselves to be specialists in our field with Sir Nick intimately involved in each project. We're not trying to be the biggest golf course design company, but we do strive to design the best and the most distinctive golf courses; consequently we seek clients who are like-minded, and who share our values and aspirations.
Faldo Design has been heavily involved in developing courses in the Far East. Is this where you see the future of golf?
Yes and no.  There is obviously a future for golf in the Far East, as there is in all developing golf markets; many new 'traditional' 18-hole golf courses are planned for those regions but that isn't the whole story.
Redesigning and remodeling existing golf courses will be a huge part of the industry in the future – it already is in the States. Different forms of golf also need to be explored and developed – shorter (non-championship) courses for example, 6- and 9-hole courses, par-3 courses, and better academies and practice facilities.
Golf is an incredibly healthy global business.  Some of the regional focuses have changed but the business and the game continues to grow around the world.
How important is it for any Faldo Design to be ecologically sensitive and environmentally sustainable? Are there examples of where this has been important?
Faldo Design works very closely with its clients, their consultants and with the local authorities on every project to make sure it is designed and developed in the most responsible way. Our golf courses are part of the landscape and not independent of it, so it is very important the local ecological habitats are maintained, and in many cases enhanced.
Ultimately, Faldo Design's approach is to 'design to last'. Environmental sustainability is very important but to achieve it other parallel issues need to be managed as well – if a project isn't planned and designed on a solid foundation, sustainability is unrealistic. It is vital each project achieves environmental, social and financial sustainability.
Some examples where there was/are particular ecological considerations are Ledreborg Palace, Denmark, which is built on a very sensitive site where earthworks were largely limited to +/-0.5m and the routing avoided a number of officially designated archaeological and environmental areas. As a result, this course now has a carefully considered environmental management plan.
In the design of Elea Estate in Cyprus we retained swathes of native garrigue flora and added 10 hectares more. These areas are now carefully managed and left un-irrigated throughout the year to protect the native floral habitats.
Is it easy to quantify what a 'branded' course gives a new development, ahead of a design from a lesser-known architect?
Yes, quite simply by the green fees Faldo Design courses command and the value of properties/success of hotels on developments that feature one or more of our courses. There are statistics to show the value of a 'branded' course, but essentially the benefits are two-fold:
Firstly, with a Faldo Design golf course comes the impact and quality that the Faldo name and brand represents; the marketing value of that is very significant because Sir Nick Faldo is such a well-known and respected figure in the golfing world.
Secondly, Sir Nick's unique knowledge of golf courses and the global game adds another dimension to our design product; his influence on our courses is especially evident in their strategic quality.
The Faldo Series is a major force in junior golf. How is this programme evolving and what are the plans for the future?
The Faldo Series has developed since its launch in 1996 into a program that currently provides opportunity to more than 7,000 young people each year. Thirty-eight Series tournaments take place in 28 countries worldwide, spanning the UK, Europe, South America, the Middle East and Asia; and several take place on Faldo Design courses.
The programme aims to benefit talented young golfers and beginners alike, many of whom have been inspired recently by two of our past winners, Rory McIlroy and Yani Tseng.
With Sir Nick's significant involvement, plus the continued support of our partners, including The R&A, the European Tour, ISPS (International Sports Promotion Society), Mission Hills China and Lough Erne Resort, we are continuing to explore ways to create more access to golf for more young people, regardless of background, with a focus on emerging golf markets. For instance, we have recently signed an agreement with the Brazilian Golf Federation to take the Faldo Series to Brazil until at least 2016, when golf returns to the Olympics in Rio.
Sir Nick is building a great reputation as a golf commentator in America. Is this something he wants to develop further and how does he balance it with the demands of the course design business and his other interests?
Of course, you can tell from just watching him on TV that he really enjoys it. It benefits Faldo Design projects as well – Sir Nick is in a unique position where he sees many of the best old and new courses on the PGA tour.  The influence of seeing both good and bad elements of those courses, and how modern golfers play on them – what they like and dislike etc. – filters down to how he approaches the design of each new course. The commentary is not 'full time' though, so Sir Nick is able to spend time on each of Faldo Design's projects as well as with his family and on other diverse charitable and commercial activities.