Faldo-Designed Laguna Lang Moves Into the Spotlight
Jul 25 / 2014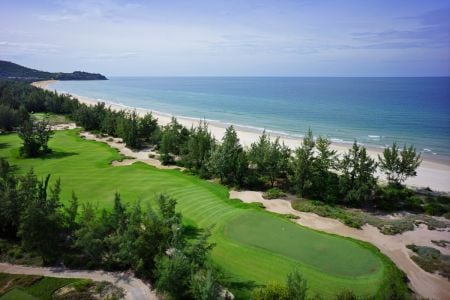 Thua Thien Hue Province, Vietnam (July 25): Laguna Lăng Cô Golf Club will take centre stage in the seventh Faldo Series Vietnam Championship (July 26-28).
Since its opening 16 months ago, the Nick Faldo-designed masterpiece has received widespread acclaim and played a pivotal role in the development of Vietnam's Central Coast region as a major golf and tourism destination.
Six-time Major champion Faldo, Britain's most successful ever golfer, said: "The course is everything we thought it would be … and even better.
"There are six different environments, which give players an experience like no other – rice paddy, woodland, water, beach, sand and what I call 'blowout' areas. There's something in it for everyone, as well as exceptional views all the way around. I believe it will hold up against the better courses in this region and maybe the world. The whole ambience of the course with a Banyan Tree resort makes it very special place."
Situated midway between Vietnam's former imperial capital of Hue and its third largest city of Danang, Laguna Lăng Cô is nestled between mountains and sea on a sandy strip of dune land.
The Laguna Lăng Cô resort, near Lang Co Bay, is framed by a three-kilometre beach in the Chan May region of Central Vietnam, an area renowned for its pristine coastline, natural scenery and proximity to UNESCO World Heritage sites.
The leading players from the Faldo Series Vietnam Championship will qualify for the ninth Faldo Series Asia Grand Final, to be hosted by Faldo at Mission Hills Golf Club in China in March 2015.
Supported by The R&A, ISPS and Mission Hills and endorsed by the Asian Tour and the Asia Pacific Golf Confederation, the 2014-15 Faldo Series Asia campaign will stretch over 11 months and be made up of a minimum of 20 championships.
Recognised as the only global amateur series for boys and girls, the Faldo Series was established in 1996, expanding to Asia in 2006.
Today, 40 Faldo Series tournaments take place in 30-plus countries worldwide, touching more than 7,000 golfers each year. Past winners include Tseng Ya-ni and Rory McIlroy, who captured his third Major crown at this month's Open Championship at Royal Liverpool Golf Club, Hoylake.