Faldo Design's Latest Course to Open in Cyprus this Autumn
May 27 / 2010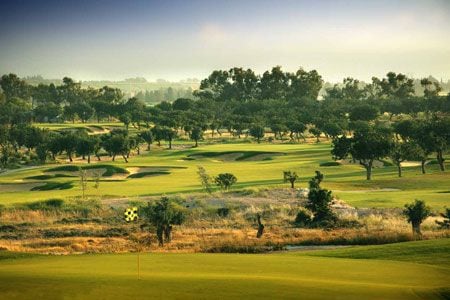 Faldo Design announced today that the Elea Golf Club near Paphos, Cyprus, is to be officially opened by the six-time Major winner this autumn.
The Elea Golf Club, which is situated in Paphos and 5km from the international airport, will be the centrepiece of Elea Estate, a premium development that will boast luxurious villas and apartments, a boutique hotel supported by a range of dining options and extensive spa facilities.
This magnificent par 71 golf course commands a striking location above the shimmering Mediterranean Sea and has been meticulously crafted through dramatic landscape, featuring imposing weathered outcrops of limestone that offer a unique character across the course.
Commenting on his vision for Elea Golf Club, Sir Nick Faldo said: "This golf course certainly has the potential to play a pivotal role in establishing this part of the world as a leading European golf destination.
"When we designed the golf course at Elea Golf Club we decided to put the emphasis on thoughtful, rather than big-hitting, golf and there are plenty of strategic riddles for the golfer to explore and unravel over all 18 holes."
The fascinating layout circulates through stands of mature carob and olive trees, while the dramatic outcrops of weathered limestone strike a contrast with the deep green of the seaside paspalum grass fairways and semi-roughs.
In a carefully planned ecological design, individual holes are fringed by undisturbed and un-irrigated swathes of colourful native 'garrigue' flora. This stunning visual effect invokes a truly Mediterranean feel, while retaining the ethos of a traditional and dramatic experience for the golfer. In addition, the wildlife of partridges, birds of prey, butterflies and lizards thrive on the benefits of this carefully protected environment.
Ross Robertson, director of golf operations at the Elea Golf Club, said: "The Elea Golf Club is without doubt a golfer's golf course and most of all we want to deliver a golf experience where our guests can feel the spirit of the game as soon as they drive through the gates.
"For too long the international golf business has been focused on turning over numbers. At Elea we intend to change that. We want everyone, whether a golfer or non-golfer, to experience a real club; where everyone is welcomed and everyone can feel at home. Furthermore, with a brilliant golf course that blends seamlessly into the beauty of the landscape, our guests will be in awe of what is a truly remarkable place.
"Our mission at Elea Estate is to deliver a supreme experience for everyone. Whether for golfers on the course, or visitors relaxing in the Clubhouse and enjoying our world-class culinary experience, our focus will be on delivering levels of service throughout our operation which surpass all their expectations."