Faldo Pleased with Progress at Laguna Lang Co
Apr 13 / 2012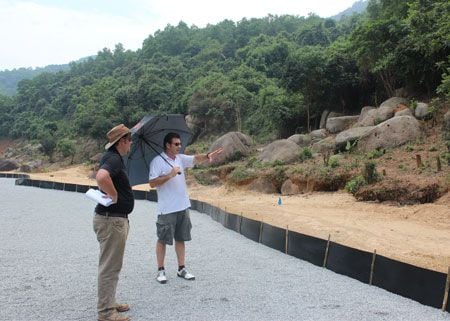 Sir Nick Faldo has reported that he is pleased with progress at the spectacular ocean-side Laguna Lang Co project in central Vietnam following his latest visit.  With ten holes now final shaped, the Faldo Design golf course is still on track to open in 2012.
"The course has really come to life, even in the short time since I was last here," said the six-time Major Champion who added three days in Vietnam to his Faldo Series duties in China and Cambodia.  "As we planned from the start, there is a great variety of strategic holes, each with character, and I am confident golfers will remember every one of them.  This will be a very memorable golf experience"
With ten holes final shaped, the grow-in of the golf course will begin within the next month.  Zoysia matrella is to be planted on the tees, fairways and rough and Tif Eagle on the greens.  A soft opening is provisionally scheduled for later in the year.
Appointed by Banyan Tree Holdings, Faldo's 18-hole course will form the centrepiece of a luxury integrated resort complex situated on a 280-hectare beachfront site that, when fully developed, will have approximately 2,000 hotel keys under the management of international, branded hotel and resort operators, award-winning spas, resort residences, convention facilities and a town centre with retail and recreational facilities.
Located near Hue on Vietnam's central coast, Laguna Lang Co is one of six Asian projects currently being undertaken by Faldo Design, with work also underway on other sites in Cambodia, China, India and Indonesia.
Established in 1991, Faldo Design has completed projects in 14 different countries worldwide.  With offices in London, Hong Kong and the USA, Faldo and his design team are currently working in North America, the Caribbean, Central and South America, Europe and Africa, in addition to India and Asia-Pacific.
Recent award-winning Faldo Design projects include Roco Ki in the Dominican Republic and Lough Erne Resort in Northern Ireland (respectively ranked as second and third 'Best New International Golf Courses' in 2009 by GOLF Magazine) and Eléa Estate in Cyprus (voted 'Best European Golf Development' in 2011 at the European Property Awards).
For more information on the Lagnua Lang Co project click here.  You can also follow Faldo Design on Twitter at www.twitter.com/faldodesigners.