Nick Faldo Launches Latest Course Design in Portugal
Oct 08 / 2008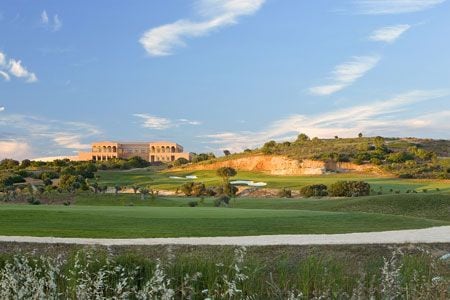 Nick Faldo has launched his latest golf course design at Amendoeira Golf Resort, a course which the six-time Major winner feels could become recognised as one of the very finest in the popular Algarve region of Portugal.
The Oceânico Faldo Course at Amendoeira Golf Resort is a par 72 championship course set in the stunning hillsides of Amendoeira, near Silves.  Rocky outcrops, meandering watercourses and views to the distant mountains and orange groves define its essential character and the course covers undulating terrain linking the two highest points on the expansive Amendoeira Estate.  From the first hole, a challenging uphill par 4, to the last, a magnificent par 5, it has been designed for the thoughtful golfer, with a strategy outlook that provides a challenging test of golf to players of all abilities.
Faldo said: "The course is maturing very nicely.  The final product has the potential to be the best example of a 'Mediterranean desert-style' course in Europe and it was great to come and play the inaugural round.  The project has given me a fantastic opportunity to create a very strategic layout and I think the course will be a real talking point in the Algarve.  Visitors to Amendoeira are going to find our course a challenging but very enjoyable experience."
Faldo's course is to be officially opened during the week of the Portugal Masters (October 16-19, 2008) and will sit at the heart of this impressive new development.  Amendoeira Golf Resort also features a second course (designed by Christy O'Connor Jnr.) and a truly spectacular clubhouse with stunning views across both courses.  Over 400 luxury villas and apartments as well as the Amendoeira Sporting Club, which will include tennis courts, football pitch and swimming pool, are also under construction, making Amendoeira the most significant new development in the Algarve in recent years.
Amendoeira is the latest addition to Faldo Design's growing portfolio of golf courses and is the company's third European course design to have recently opened for play: Cornelia Golf Resort in Antalya, which opened in 2007, has gone on to be recognised as the best new course in Turkey; and Ledreborg Palace, near Roskilde in Denmark, which also opened last year to great acclaim.  Further European projects are set to open in 2009, including the stunning Lough Erne in County Fermanagh, Northern Ireland.
Click here to see more on the Faldo Course at Amendoeira Golf Resort.