Nick Faldo Opens First Course in Cambodia
Feb 18 / 2008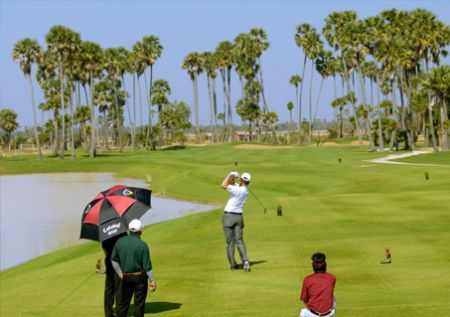 Nick Faldo has opened the Angkor Golf Resort in Siem Reap and predicts great things for his company's first course in Cambodia.
Energized by a two-day visit to Siem Reap and after playing his new 18-hole design near to the famous temples of Angkor Wat, Faldo said: "I am certain that this site and this golf course will become world renowned.  We have designed and built a golf course that challenges all standards of golfers, from the casual weekender through to the seasoned professional.  It is a golf course that will offer enjoyment to everyone and will hopefully have them coming back to be challenged by this strategic layout time after time."
Under glorious skies, the six-time Major winner received a blessing from local monks and then conducted a golf clinic, passing on golf tips to the attending masses and showcasing his precision ball striking on Angkor Golf Resort's 300 meter long driving range.  This was followed by an 18-hole exhibition round to view his latest masterpiece and a gala dinner for 100 invited guests held at the Victoria Angkor Spa & Resort.
During his trip Faldo took time to visit the recently opened Siem Reap Museum which showcases the majestic history of Cambodia's spiritual and cultural heartbeat as well as visiting some of the other tourist attractions that can be found in this previously sleepy backwater that is fast reinventing itself as a sophisticated centre for the new wave of visitors.
Faldo continued: "Overall, I believe that we have created a course that offers great variety through all 18 holes and the fact that we have been working alongside such remarkable surroundings has been a real inspiration; the result is a strategically testing and very engaging round of golf.  I believe that our course at the Angkor Golf Resort will help to put this part of South East Asia firmly on the golfing map."
Adam Robertson, Operations Manager of Angkor Golf Resort, added: "Befitting a golf course designed by a master, Angkor Golf Resort has been built and constructed to the highest standards with every contour painstakingly shaped to meet Faldo's discerning eye.  But what is special about this course is that we, with the help of Nick's expertise, have created something that will take golf to a whole new level in this country and the region."
Click here to see more on Faldo Design's work at the Angkor Golf Resort.