Sir Nick Inspects Faldo Design Project in Vietnam
Nov 15 / 2010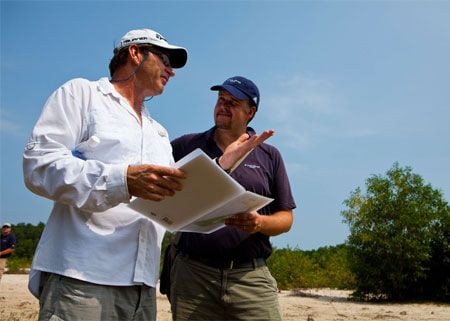 Sir Nick Faldo was in central Vietnam recently to visit Faldo Design's golf course design project at Laguna Lang Co, near Hue.
"We have been given this unique setting and will work to incorporate all of the natural dramatic features," said Faldo.  "It is rare to have such diversity, including these trees, sand dunes, rice-paddies, rock formations and this stunning coastline as a framework for a strategic golf course layout.  The commitment of Mr. Nguyen Van Cao and the Hue's People's Committee will ensure that Laguna Lang Co is a true tourism draw to this special region."
Mr. Nguyen Van Cao, Chairman of the Hue's People's Committee, commented: "This is the first golf course in Hue and we are very delighted to have the best golf course designer in the world, Sir Nick Faldo.  The Laguna Lang Co resort will contribute a lot to Hue tourism.  We are happy to provide the support to make this project successful."
Appointed by Banyan Tree Holdings, Faldo's 18-hole course will form the centrepiece of a luxury integrated resort complex situated on a 280-hectare beachfront site that, when fully developed, will have approximately 2,000 hotel keys under the management of international branded hotel and resort operators, award-winning spas, resort residences, convention facilities and a town centre with retail and recreational facilities.
Laguna Lang Co is part of a portfolio that includes over 25 Faldo Design courses open for play in 17 different countries across the globe.  It is one of five new projects to be undertaken by Faldo Design in Asia within the past 18 months, with work also underway on other sites in India, Cambodia and China.