Sir Nick Opens Faldo Design's Latest Golf Course in Cyprus
Oct 20 / 2010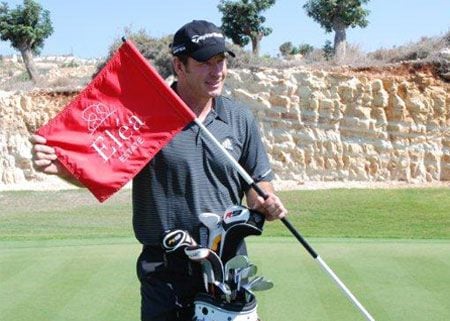 Sir Nick was in Paphos, Cyprus, this week to officially open Faldo Design's latest completed golf course design at Elea Golf Club.
Sir Nick commented: "I would like to thank the entire team here at Elea and, of course, in particular Zenon Eliades, whose relentless dedication and vision has made this stunning project possible.
"All of us at Faldo Design are proud of our own achievement here. We have created a course that offers not only strategic golf in a beautiful setting, but is also very sympathetic to its environment with minimal water-usage and a concentration on native plant species. This is a golf course that sits comfortably and in harmony with its landscape.
"I'm certain that this course will become a real talking point in the Mediterranean – and the Elea Estate certainly has the potential to help develop the perception of Cyprus as a special golfing destination."
At 6,775 yards from the back tees, the golf course commands a striking location above the shimmering eastern Mediterranean Sea and has been meticulously crafted through rolling countryside, featuring imposing weathered outcrops of limestone that offer a unique character across the course.
The challenging layout circulates through groves of mature carob and olive trees and the dramatic outcrops of weathered limestone strikingly contrast with the dark green paspalum grass fairways and semi-rough, which on a number of holes are fringed by Mediterranean shrubs and grasses and an abundance of wild herbs and native flora.
The Elea Golf Club, is the centerpiece of Elea Estate, a premium development owned by Nicosia-based company, S.Z. Eliades Leisure, that, on-completion, will boast luxurious villas and apartments, a boutique hotel supported by a range of dining options, and extensive spa facilities.
Ross Robertson, Director of Golf Operations at Elea Golf Club, said: "Our mission at Elea Estate is to deliver a supreme experience for everyone. Whether golfers are on the course, in the Clubhouse or enjoying our world-class food and beverage options, our focus will be on delivering above-expectation levels of service throughout our operation.
"The Elea Golf Club is without doubt a golfer's golf course. From the moment you play your first tee shot you are met with a multitude of challenges that will make this course a test for every level of player. Already, the course is receiving critical acclaim from the world's golf media."
For further information about Elea Estate, visit: www.eleaestate.com