Faldo Courses Achieve Critical Acclaim in Latest Rankings
Jun 11 / 2010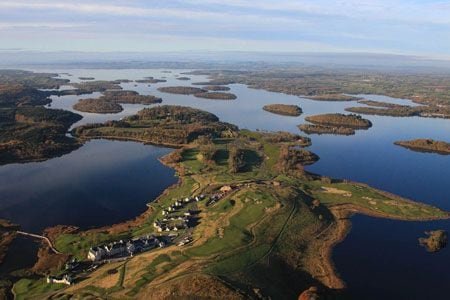 Three of Faldo Design's recently completed design projects have received critical acclaim in the Golf magazine rankings for Best New Courses of 2009.
The Faldo Legacy Course at Roco Ki in the Dominican Republic and Faldo Design's course at the Lough Erne Resort in Northern Ireland achieved second and third place respectively in the magazine's 'Best New International Golf Courses' rankings. In addition, the Wilderness Club in Montana was ranked second amongst the 'Best New Private Courses' in the US.
All three layouts are currently open for play and their acclaim highlights not only the recognition that Nick Faldo is now receiving as one of the most respected player-designers in the industry, but also the pioneering and very discerning approach that the six-time Major winner applies to all facets of the golf course design process.
Faldo commented: "I'm delighted that our courses are being recognised as real golfing challenges that have the ability to both interest and inspire players of all abilities. Our achievements at Roco Ki, Lough Erne and the Wilderness Club demonstrate and, I believe, reflect the hard work that Faldo Design puts in to all of our projects, the respect that we have for the land on which we work as well as the dedication of our clients' teams at each of those projects. I hope that golfers will enjoy playing these courses as much as we have enjoyed designing them."
The Faldo Design project at the Lough Erne Resort has unveiled one of the finest lakeland courses in Europe. Spectacularly situated alongside the shores of Castle Hume Lough and Lower Lough Erne, this extremely picturesque site lends itself perfectly to 18 holes of stunning championship golf. Lough Erne offers five-star accommodation and a number of luxury leisure facilities including world-class dining options and an authentic Thai Spa.
Roco Ki's Faldo Legacy Course is adjacent to one of the island's most beautiful pristine white sand beaches. The property also borders the area's extensive tropical mangrove forest and the golf course winds dramatically along an extraordinary headland that juts out into the crystal waters of the Caribbean Sea.
Faldo Design's 18-hole championship-standard golf course at the Wilderness Club is at the heart of a development that stretches across 545-acres of dramatic Rocky Mountain 'big sky' countryside.
With work underway or completed in more than 25 countries worldwide and a current project on every habitable continent, Faldo Design's portfolio is as broad-reaching as it is uniquely diverse - a  reflection of the company's policy of undertaking projects that have spectacular potential.
For further information on Faldo Design's portfolio of golf courses, click here.